<![if !vml]>

<![endif]>                                                  
"October is a fine and dangerous
  season in America. It is dry and cool and
the land is wild with red and gold and crimson, and all
the lassitudes of August have seeped out of your blood, and you
are full of ambition. It is a wonderful time to begin anything at all."
Thomas Merton
Come and celebrate autumn beginnings!
<![if !vml]>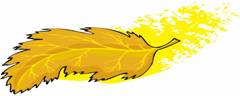 <![endif]>The Bains' House – 5140 8th Ave. S.
Thursday October 5, 2006
4:30-7:00
Directions:  From Samford and "Over the Mountain"
about 7 or 8 miles, 15 or so minutes from Samford
Take US 31 North (Red Mountain Expressway) to the 3rd and 4th Ave. S. exit
Turn RIGHT off the exit ramp,  Then LEFT at the light on to 4th Ave. S. (East US 78)
Follow East US 78 for almost 3 miles (at about 36th St. US 78 cuts over to 3rd Ave. Just turn left at the blinking light and then turn right on 3rd. Ave.)
After the Jet Pep gas station on your right; bear LEFT on to 5th Ave. S. (This is immediately opposite the small Exxon station, but you won't really see it until the last minute.)
Go two blocks and turn RIGHT at the light onto 49th St. S.
Go to the first stop sign and turn LEFT onto 7th Ave. S.
Continue on this street 3 blocks to 52nd St. S.
Turn RIGHT.—5140 8th Ave. is at the next corner, tan brick with green trim.—Park on 52nd alongside the house, or in front of the house on 8th.